Cause an Effect at Kane County Chipotles!
Make dinner a selfless act by joining us for a fundrais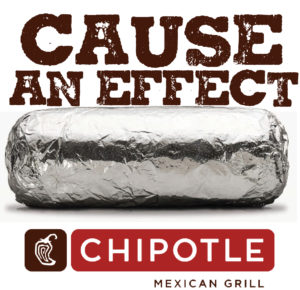 er. Visit any Kane County Chipotle location on Sunday, October 15th between 10:45am and 10pm.
Bring in the flyer, show it on your smartphone or tell the cashier you're supporting the cause to make sure 50% of the proceeds will be donated to Open Door!
Please help us spread the word by sharing the flyer with your family, friends and coworkers.
You can download the flyer here!
KANE COUNTY CHIPOTLE LOCATIONS:
Aurora Kirk & Butterfield (Kirk Road and Butterfield Road)
Aurora Orchard (Orchard & Sullivan)
Geneva (S. Randall Rd & Fargo Blvd)
Oswego (Rte. 34 & Prairie Market Dr.)
South Elgin (Randall & McDonald Rds.)
St. Charles (Rte. 64 between 38th Ave. & Kautz)
West Dundee Springhill (8th Street b/w Rte. 72 & Kane Road)
Chipotle's Fine Print: If placing an order online during this fundraiser, please note you must choose the pay in-store option and inform the cashier of your participation before paying. Gift card purchases during fundraisers do not count towards total donated sales, but purchases made with an existing gift card will count.