Advocacy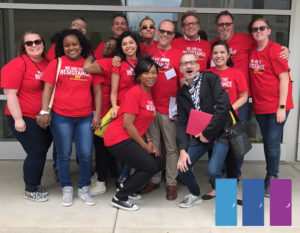 Open Door works with AIDS Foundation of Chicago to improve services for, and protect the rights of, people living with HIV. We annually send clients who have been trained in advocacy to AIDSWatch in Washington, D.C. and to Lobby Days in Springfield, IL to meet with our representatives. They tell their stories of living with HIV, concerns they have, and how benefits from the state and federal governments have helped their lives.
Open Door has several clients who are on Policy/Advocacy Committees with AIDS Foundation of Chicago. They serve as client representatives on various advisory boards. They have been active in recruiting other clients to participate in policy and advocacy work. They have also become trainers and group leaders at client events.
Join us for Advocacy Day 2016!
To learn more about this great opportunity to support those living with HIV click here.
As a result of our advocacy efforts, in August 2013, we were pleased to have Congressman Bill Foster visit our Aurora office, meet with clients and listen to their concerns.
If you are interested in joining Open Door's Advocacy team, please register below.
We thank you in advanced for your commitment and helping us make a difference in our community.