Volunteer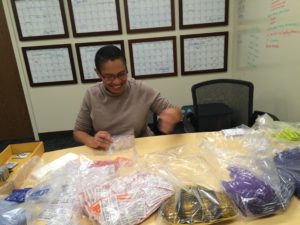 Volunteers are essential to the work we do at Open Door. 
Your talents, enthusiasm and skills are important to the success of Open Door. If you have some time to share, we would love to have you be part of the team. To begin the process, please fill out our volunteer application today!
Volunteer opportunities are available both in Aurora and Elgin.
Current Volunteer Opportunities
Health Fair Volunteers
We promote our services at health and wellness fairs throughout 5 counties – and we can ALWAYS use help hosting booths. Health Fair Volunteers are required to attend a special training, so if you are interested, please let us know today so we can schedule that training with you!
Client Supply Pantry Needs: Household & Personal Item Solicitors
Open Door continually stocks a pantry for clients and their families that allow access to essential personal and household items.  Donations are needed to keep the pantry full, please consider hosting a collection or donating items to provide essential personal and household products to those experiencing financial hardship.
Items needed include:
• Shampoo & Conditioner • Bar Soap & Body Wash • Toothpaste, Tooth Brushes, & Dental Floss
• Deodorant • Adult Diapers & Pull-Ups (no open packages, please) • Pads; Female & Adult (no open packages, please) • Tampons (no open packages, please) • Paper Towels • Laundry Detergent • Toilet Paper  • Dish Soap & Sponges
Volunteers are needed to solicit donations from area churches and stores so clients are able to have items they need as they work towards health.
3rd Party Event Fundraiser
A 3rd Party Event Fundraiser is a company, organization or individual that wishes to hold a promotion, event, or sale to benefit Open Door. We are grateful for dollars raised through events – they help the Open Door provide programs and services as a Patient Centered Medical Home to provide quality, comprehensive and cost-effective health care to our community. If you are interested in learning more about this opportunity please contact us!
All Things Chocolate
Open Door's signature event, All Things Chocolate, is held every Spring in the Fox Valley Area. 2017's event will be April 21. Join the committee to help choose chocolatiers and bring more chocolate to the event, find and organize silent auction items and choose awesome entertainment to wow the participants year after year! All Things Chocolate volunteering opportunities are available beginning February through April.
Back to School Drive
Open Door does our best to support our clients and their families whenever we can! Every Summer Open Door hosts a school supply drive to fill our client's kid's backpacks for the start of a new school year. We collect everything from folders, calculators, USB drives, to rulers. Please consider filling a child's back pack by purchasing school supplies or helping Open Door stuff backpacks. This opportunity is available July through August.
Christmas Wishes Program
Every child deserve a memorable holiday season. Open Door's Christmas Wishes program aims to fulfil two gift wishes of any client' child that participates in the program. Children up to the school age of a Senior in high school are eligible to participate in the program. Most wish lists range from $25-$75 with requests asking for a new winter jacket to Lego sets or art supplies! This opportunity is available November through December.
To volunteer for any of the listed projects, please contact Christine at 847-695-1093 ext. 225 or email her at volunteer@odhcil.org