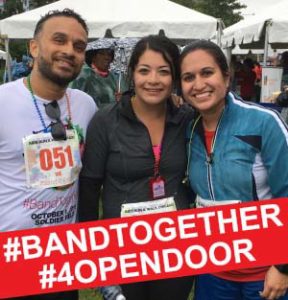 Join Team Open Door on October 1st to show your support for HIV education, prevention, testing and treatment in the suburbs!
We will BAND TOGETHER on October 1st at Soldier Field to take strides to decrease the stigma and increase awareness of HIV/AIDS. Our walk team will work towards reaching two goals: having 50 participants and raising $10,000 – which will be utilized by Open Door to continue promoting the importance of being tested!
Pre-Day of Costs: Walkers – $30; Runners – $40 for the 5K or 10K
Day-of: $60 for walk, 5K or 10K run. Must have exact change.
In addition to the AIDS Run/Walk shirt, Team Open Door participants will receive a Team Open Door t-shirt and goodie bag.
Please click here to register to be part of Team Open Door OR to make a monetary donation to our team. Your support is important. Thank you!
Click here for a downloadable copy of the 8 1/2 x 14 inch flyer to help promote Team Open Door's efforts.
Click here to request a can to help collect donations.